Gift Cards
Gift Cards are great for birthdays, anniversaries, rewarding employees for a job well done, or celebrating a milestone or achievement. Purchasing a gift card is easy and hassle-free, which means more time for you, and they are always appreciated by the recipient who will be excited to be able to choose exactly what they want, in the right size and color!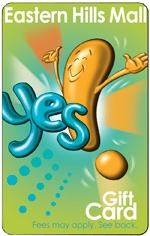 Can I purchase in any denomination, as low as $5.00?
Can they buy whatever they want with it?
Can they use it nearly anywhere in the mall?
What about to purchase their favorite brand-names?
Or treat themselves to a movie, dinner or spa treatment?
Can I replace the gift card if it gets lost? (Save your receipt)
With the Eastern Hills Mall Gift Card, the answer is always YES!
The Eastern Hills Mall Gift Card can be purchased at Mall Services, located in the center court, and are available in denominations from $5 - $500. For further information please contact Mall Services at (716) 633-1600.
If your gift card looks like this


click here to Check Your Balance